Mr Yegappan Kalairajah
MA (Cantab), MPhil, MBBChir, FRCS (Tr & Orth)
Consultant Orthopaedic Surgeon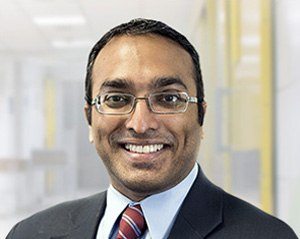 Mr Yegappan Kalairajah

Yega Kalairajah graduated from Cambridge University, and Guy's and St. Thomas' Hospital in London, in 1995. He carried out his basic surgical training in South East London (King's) and subsequently went on to do his orthopaedic training in the South West London Region (St. George's). After completing his FRCS (Tr & Orth), Yega spent a year of advanced training in Sportmed.SA, Adelaide, Australia in Sports Surgery, Arthroscopy (keyhole surgery) and Arthroplasty (joint replacement) surgery.
On completing his Certificate of Completion of Specialist Training (CCST), Yega took up a locum consultant position at Epsom and St. Helier's Hospital NHS Trust and the South West London Elective Orthopaedic Centre (EOC). EOC is the largest arthroplasty unit in Europe, enabling Yega to be one of the highest volume hip and knee surgeons in the UK during his 18-month tenure at the unit. In October 2007, Yega was appointed as Consultant Orthopaedic Surgeon at the Luton and Dunstable University Hospital (L&D) with the aim of forming the hip and knee unit within the trust. The L&D now provides all cutting-edge treatments available for hip and knee disorders to the region and further afield. He still maintains an Honorary Consultant status at the EOC unit. To-date he has carried out well over a 1000 hip and knee replacement operations as a consultant and all his operative data is submitted to the National Joint Registry. This ensures effective monitoring of personal outcomes to ensure the highest-quality service.
Yega has a committed interest in teaching and research, and plays an active role in helping and supervising research and education at his base NHS trust. He is an examiner for the UCL medical students, is the Orthopaedic Tutor for the senior trainees at the L&D, and presents and teaches at national and international courses and meeting regularly. Yega has also completed a master's degree in Engineering on hip acetabulum (socket) fixation techniques. He has published extensively in Orthopaedic journals on hip, knee and sports surgery and has done several pioneering works on computer-assisted/navigated orthopaedic surgery. He is also internationally quoted on his orthopaedic hip and knee sub-scoring system for identifying failing hip and knee implants.
Specialises in
His areas of special surgical interest include
Sports Surgery, particularly of the hip, knee and ankle (e.g. ACL, Meniscal repairs, Chondral surgery, Nerve entrapments)
Early intervention (young adult) hip and knee surgery – Hip arthroscopy and knee arthroscopy, osteotomies and partial joint replacements
Primary and Revision Hip and Knee Arthroplasty (including navigation and patient specific instrumentation).
Yega consults at
Spire Harpenden:
Monday evening
Wednesday morning
Thursday evening
Friday afternoon
Saturday morning
One Hatfield Hospital:
Tuesday morning
Friday evening
OSD Healthcare:
Cobham Clinic:
London Clinic:
Emergency appointments can be organised by his secretaries outside these times - Amanda Laws Mobile:
Karen deals with all Cobham enquiries, and her normal working times are 9 am to 4 pm Monday to Friday. Karen Mobile: 074213 01146